IT CONSULTING SERVICES NORTHERN MA
Managed IT Service Provider Northern MA
ANS Networking offers a full range of IT consulting services and complete managed IT solutions for individuals and businesses of all sizes.  We service areas around NH, Northern MA, and Southern ME and are available 24 hours a day, 365 days a year.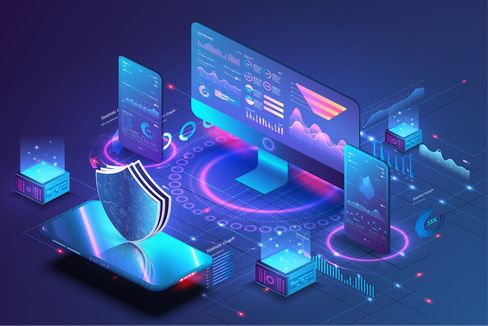 NIST & CMMC COMPLIANCE NORTHERN MA
The Cybersecurity Maturity Model Certification (CMMC) is a unified standard for implementing cybersecurity across the defense industrial base (DIB), which includes over 300,000 companies in the supply chain. The CMMC is the DoD's response to significant compromises of sensitive defense information located on contractors' information systems. NIST SP 800-171 is a NIST Special Publication that provides recommended requirements for protecting the confidentiality of controlled unclassified information (CUI).
Cloud Solutions Provider (CSP) & Cloud Infrastructure Services Northern MA
A cloud service provider is a third-party company offering a cloud-based platform, infrastructure, application, or storage services. Much like a homeowner would pay for a utility such as electricity or gas, companies typically have to pay only for the amount of cloud services they use, as business demands require. ANS Networking is a CSP (Cloud Solutions Provider). We welcome the opportunity to discuss your businesses IT objectives.
CYBERSECURITY NORTHERN MA
We utilize industry "Best Practices" in order to protect our clients' valuable data. We work closely with all our clients to document audits and do monthly security scanning to ensure "weak spots" are addressed. ANS can facilitate PCI, HIPAA, NIST and CJIS compliance.  ANS performs an initial Cybersecurity Audit for all clients during the onboarding process. This allows us to better understand your current Cybersecurity footprint. With this information we can work to remediate short-term concerns and project manage additional Cybersecurity concerns through regular maintenance.
RANSOMWARE / VIRUS PROTECTION NORTHERN MA
We have all read about the devastation Ransomware can cause on a Computer Network. We utilize our resources and take advantage of industry-certified training to constantly provide up-to-date "Best Practices" for our clients. Ransomware & Virus Protection is a constant, cyclical process that requires a mixture of OS Patches, Virus Software (Re)configuration, Router/Firmware updates, Email Filtering, URL (WEB) Filtering, and Server Configuration changes that reduces the ability of your Network Shares to be attacked.
BACKUP SOLUTIONS / DISASTER MITIGATION NORTHERN MA
Backup is a critical component to any Network Management / Disaster Mitigation plan. A valid, nightly, and tested off-site backup should be mandatory. ANS does a monthly restore to verify your data is available should you need it. We utilize a tiered approach of on-site (quick restores) and off-site cloud-based backup with verified Data Centers that store your data in multiple locations. Our Data Centers support HIPAA, ISO27001, NIST 800-53, PCI DSS, SOC 1 Type II, and SOC 2 Type II to ensure Security Requirements throughout various industries.
We offer the ability to restore your servers to a cloud space and run your infrastructure from the cloud during a hardware or physical location emergency.
IT Consulting Northern MA
Our goal at ANS Networking is to become an active, integral part of your company. We encourage our clients to include us in all IT related discussions. Knowledge sharing is encouraged and allows us to provide advice based on a clear understanding of your objectives. ANS works with you to learn about internal workflow to better understand your company. We work with you to facilitate efficient communication and data sharing throughout your organization. While we mostly work virtually, we want to create a sense of presence by always being available. Below are some of the benefits of working with an IT consulting company.
WINDOWS UPDATES / PATCH MANAGEMENT NORTHERN MA
(CVE) is a list of publicly disclosed information security vulnerabilities and exposures. CVE was launched in 1999 by the MITRE corporation to identify and categorize vulnerabilities in software and firmware.
Nearly 60% of network intrusions are related to un-patched networks.
MICROSOFT 365 (OFFICE 365) NORTHERN MA
Microsoft 365 is the productivity cloud designed to help you pursue your passion and run your business. More than just apps like Word, Excel, PowerPoint, Microsoft 365 brings together best-in-class productivity apps with powerful cloud services, device management, and advanced security in one, connected experience.
We can set your business up with Microsoft 365

CLOUD COMPUTING SERVICES NORTHERN MA
ANS will work with your company to design and implement Cloud services. We can facilitate a complete cloud IaaS (Infrastructure as a service) SaaS (Software as a service) or a Hybrid model including on-premise hardware with Cloud services.
Our Cloud Computing Services will keep your company online and backed up.
WORK-FROM-HOME / TELECOMMUTING NORTHERN MA
ANS will work with you to design a custom work-from-home strategy that is cost-effective and productive. We work with industry leaders for "out-of-the-box" remote services. We can completely customize remote strategies utilizing VPN or Site-To-Site networking.
The goal is to make remote workers as productive as those in the office.
VMWARE / VIRTUALIZATION NORTHERN MA
Virtual computing has been around for over a decade. Now it's affordable for everyone. ANS manages many Virtual Networks. Our Network Engineers can work with you to provide a customized infrastructure that you can grow into.
If you have servers that require 100% up-time, virtualization should be considered.
NETWORK INSTALLATION NORTHERN MA
ANS will work with your organization to install a completely new Computer Network or add Servers. Our Network Engineers will work with you to develop a completely customized network that supports your business.
TELCO / CABLING NORTHERN MA
ANS works with certified vendors to handle all your phone system and data cabling requirements.