ANS Networking possesses the capability to collaborate closely with you in crafting a comprehensive compliance procedure, spanning from initial audits to seamless implementation. Our collaborative efforts with prominent industry pioneers enable us to deliver top-tier cybersecurity compliance services tailored to the healthcare sector in Southern Maine. Whether working alongside your on-site IT team or independently overseeing the project, we stand ready to ensure its successful fruition.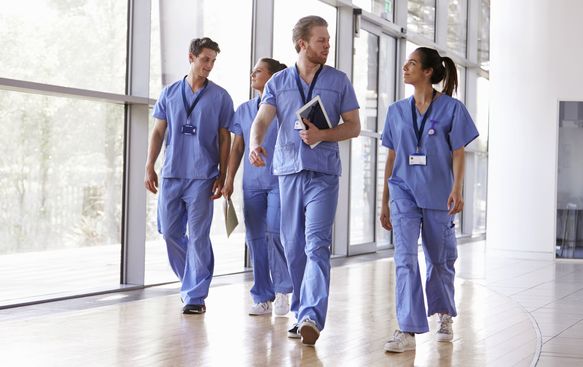 ANS Networking stands as a trusted leader in the realm of cybersecurity services, offering comprehensive solutions meticulously tailored to the healthcare sector in Southern Maine. We deeply recognize the paramount significance of fortifying the security of sensitive patient data and upholding the seamless operation of medical systems. Our expertise lies in the domain of ransomware virus protection, where we excel.
At ANS Networking, we embrace a state-of-the-art approach that fuses cutting-edge threat detection, real-time monitoring, and proactive defense mechanisms. This comprehensive strategy effectively mitigates the dynamic and evolving risks inherent in ransomware attacks. With a profound understanding of the distinct challenges confronted by healthcare establishments, we specialize in instituting robust security protocols that meticulously adhere to industry regulations and compliance benchmarks. This unwavering commitment ensures the confidentiality, integrity, and availability of crucial healthcare information.
Our unwavering dedication to fostering a secure digital landscape empowers healthcare providers to concentrate on rendering exceptional patient care, all the while remaining steadfast against the unrelenting tide of cybersecurity threats.
Ransomware Virus Protection for Healthcare in Southern ME
ANS Networking stands as a trusted authority in the realm of ransomware virus protection in Southern ME. We hold a profound awareness of the critical significance surrounding the protection of sensitive patient data and the uninterrupted operation of medical systems. Our specialization lies in safeguarding against ransomware viruses.
Our approach integrates cutting-edge methods that encompass advanced threat detection, real-time monitoring, and proactive defense mechanisms. This comprehensive strategy effectively addresses the ever-evolving risks posed by ransomware attacks. Armed with a deep comprehension of the distinctive hurdles faced by healthcare establishments, ANS Networking implements robust security protocols that align seamlessly with industry regulations and compliance standards. This steadfast commitment guarantees the confidentiality, integrity, and accessibility of crucial healthcare information.
Our dedication to cultivating a secure digital environment serves as an empowering force, allowing healthcare providers to concentrate on delivering exceptional patient care while steadfastly withstanding the persistent tide of cybersecurity threats.
Healthcare Network Data Rules for HIPAA Security & Electronic Protected Health Information
"Electronic Protected Health Information," referred to as e-PHI, encompasses all patient-related data that is generated, stored, exchanged, or received through electronic means. Due to its digital nature, this data is susceptible to potential loss or unauthorized access. The term "Covered Entities" encompasses businesses and organizations that handle this electronic protected health information, such as hospitals, physical therapists, dentists, health insurance providers, and various healthcare practitioners. These entities are obligated to adhere to the "Security Rule," which mandates them to establish "reasonable and appropriate" administrative, technical, and physical safeguards to safeguard e-PHI.
Expanded Requirements for Reasonable and Appropriate Safeguards:
Assure the confidentiality, security, and availability of all e-PHI created, received, or transmitted.
Mitigate potential threats to the integrity and security of the information, actively identifying potential risks.
Guard against any anticipated unauthorized uses or disclosures of the e-PHI.
Ensure that the workforce members who access this information remain compliant with the established safeguards.
Security Rule Definitions
Confidentiality: Ensuring that e-PHI remains inaccessible and undisclosed to unauthorized individuals. The confidentiality stipulations serve as a safeguard against improper revelations and misuse of protected health information.
Integrity: Guaranteeing that e-PHI remains unaltered and unharmed by unauthorized means.
Availability: Ensuring that e-PHI remains accessible and can be readily utilized upon demand by authorized personnel.
Determining Appropriate Security Rule Elements for Your Business
Recognizing that covered entities span a spectrum ranging from expansive multi-state health plans to compact local physical therapy practices, the HHS acknowledges the adaptable and scalable nature of the Security Rule. This adaptability empowers covered entities to evaluate their unique circumstances and requirements, enabling them to implement solutions that align optimally with their needs. When a covered entity deliberates on the security measures to adopt, the Security Rule mandates the entity to take into account:
Its physical dimensions, organizational intricacies, and capabilities.
Its technological infrastructure, encompassing both hardware and software components.
The financial considerations involved in implementing security measures.
The probability of potential e-PHI data loss and the potential ramifications of risks to e-PHI.
ANS Networking's team of cyber security and network data security experts can make sure your health organization complies with these HIPAA Security Rule standards. Call us today to get started 603-605-8099
Contact ANS Networking Today
Looking for IT Consulting Regarding HIPAA Security?
ANS experts will work with your company to provide a customized healthcare IT Consulting plan today.
IT Consulting Results in NH, MA, and ME

My Company has worked with A.N.S. Networking, Inc. for 11 years now and we couldn't be happier. Brian and Evan are responsive, professional and always looking ahead to make sure our company is prepared. They give their time and attention equally to large projects or quick questions. We are

...

thankful to work with such a wonderful company!

read more

Brian and his team at ANS Networking are an integral part of our business operation and are always on-hand for anything from a quick emergency fix, to general IT work and strategic initiatives and beyond.

I have been a client of A.N.S. Networking for more than 15 years. Brian is always incredibly responsive to any support requests. He also maintains our system remotely on a monthly basis to ensure that everything is running smoothly. Our network is strong and doesn't have any downtime. He is also is

...

always cognizant of keeping the costs down and not spending money where it isn't necessary. I would highly recommend working with A.N.S.

read more

Brian has been an essential part in setting up my accounting practice. He walked me through the different options for equipment, network, data back-up and security, helping me to choose the most cost effective IT package, set everything up at my office, and now monitors and maintains everything

...

remotely. He is incredibly responsive whenever I have questions and I couldn't be happier with the service.

read more

A.N.S. Networking, Inc., has been the IT service provider to the last two work places I have been in over a span of 20 years. Our experience has been outstanding with service and support when it is needed. We have found they are usually ahead of the curve in terms of current issues and trends.

...

They have always delivered as promised, and are always available when needed. And perhaps most importantly, they will talk to you in common language so you can understand a technical issue and what options there may be for addressing them. As a municipal government, we have also found they are sensitive to our annual budgeting requirements and restrictions. We would highly recommend them for your consideration.

read more

Brian is extremely responsive to our company needs and can be reached at any time. Call back is within a few minutes of any request.

We have been working with Brian Chasse at ANS for over 3 years. Brian's attention to detail and efficient network engineering capabilities are excellent. He has also been helping us with our cyber security compliance which adds another level of depth to the services he offers. We feel fortunate

...

to have such a reliable partnership for all our technology needs.

read more

We've worked with Brian at ANS Networking to handle our IT needs for our offices in Rochester, Dover, and Alton for over 5 years. Brian is always responsive, listens to our concerns and finds solutions that fit our business (20 employees). A++ Service!

A.N.S Networking has been providing excellent IT support and services to the Auburn Police Department since 2015, following a cyber attack. From day one, Brian Chasse made APD data security and network management top notch and secure. He and his IT team are quick to respond to any questions or

...

issues we may experience. With remote monitoring and management, the protection is quality and trustworthy 24/7. A.N.S. Networking gets a 2 thumbs up by us.

read more

ANS has been wonderful to work with. Brian and Evan have always responded to our calls in a timely manner. They are very knowledgeable and are always very professional. In the last couple of years we have opened two new locations and they did a walk through, ordered what we needed, set up

...

everything and then tested the computers, scanners, server and printers. Brian goes above and beyond. Even on the weekends, when the doctors needed some assistance, we called and in a matter of minutes we were set. I would highly recommend their services. ANS is the best!

read more

A.N.S Networking has been providing our IT services for roughly 15 years. Their expert guidance has helped us to implement new point of sale software, two accounting systems and networks at new locations. They have learned our corporate culture and are sensitive to whether a project is cost or time

...

sensitive. They are always available via phone, email or text message - which is critical for an IT provider. Often they make me aware of potential issues so that we can fix them before they become a large problem. It is so nice to have a company I trust to handle not only the big projects but also small day to day tasks. I would recommend them to anyone. You will not be disappointed.

read more

As a Town Administrator of a small lakes region community I have has the pleasure of working with ANS Networking for the past 2+ years, and we have found Brian and his team to be very responsive to our computer networking needs. ANS Networking's contract services have meet all our expectations, and

...

he and his staff are current with todays technology and delivers it with the utmost professionalism and integrity.

read more
Contact us about our HIPAA and Healthcare IT Consulting Services in NH, MA and ME today.